Health Insurance Services
Protect your health, secure your future with our health insurance services
Looking for comprehensive health insurance options? Look no further! We offer various personalized health insurance packages from the world's top providers to meet your individual or group needs.
Whether you are looking for individual or group insurance packages, our team has covered you.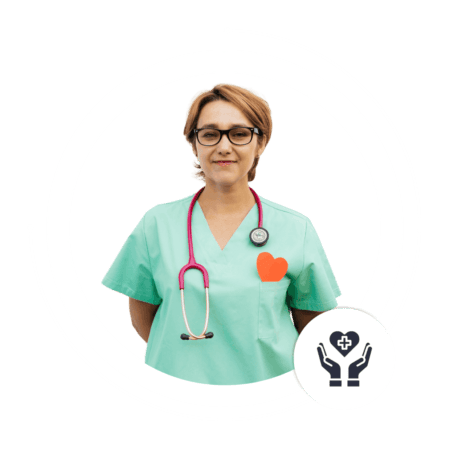 Looking for top-of-the-line health insurance coverage that provides exceptional care both domestically and internationally? Look no further than our international and luxurious health insurance packages. We understand that our clients have specific needs and require premium care that meets their lifestyles and expectations.
Our comprehensive and customizable health insurance packages offer coverage for medical treatments and services at the world's top hospitals and medical facilities. From routine check-ups to emergency medical situations, our plans provide peace of mind, knowing that you and your loved ones are covered. Experience unparalleled service and care with our international and luxurious health insurance packages.
Health Insurance Service- All You Need to Know
Welcome to our complete guide on health insurance in Dubai. At Emirates Business Setup, we understand that navigating the world of health insurance can be confusing and overwhelming. That's why we've put together this comprehensive guide to help you understand everything you need to know about health insurance in Dubai.
Firstly, it's important to understand that health insurance is mandatory for all residents in Dubai, including expats. The Dubai Health Authority (DHA) requires that all residents have at least a basic level of health insurance coverage. It means you must have health insurance if you live or work in Dubai.
At Emirates Business Setup, we offer health insurance services in partnership with PassportCard. It offers a range of health insurance plans that cater to the needs of individuals, families, and businesses in Dubai. Their plans are designed to provide comprehensive coverage for medical expenses, including hospitalization, outpatient treatments, and emergency services.
One of the key benefits of choosing a Passport Card for your health insurance needs is its innovative approach to claims management. With their unique technology platform, claims are processed instantly, and payments are made directly to the healthcare provider. That means you don't have to worry about paying out of pocket and waiting for reimbursement.
Passport Card also offers a range of additional benefits, including access to a network of healthcare providers, telemedicine services, and wellness programs. These additional benefits are designed to help you stay healthy and manage any existing medical conditions.
When choosing a health insurance plan in Dubai, it's important to consider your individual needs and budget. Passport Card offers a range of plans with varying levels of coverage and premiums, so you can choose the plan that best suits your needs.
Dubai Health Insurance Requirements
If you're living or working in Dubai, it's important to understand the health insurance requirements set by the Dubai Health Authority (DHA). The DHA has made it mandatory for all residents and visitors to have health insurance coverage, and failure to comply can result in penalties or fines.
To meet the DHA's requirements, your health insurance policy must meet certain criteria, such as minimum coverage for inpatient and outpatient care, prescription drugs, and maternity care. The policy should also have a maximum deductible amount, which is the amount you'll have to pay out of pocket before insurance kicks in.
At Emirates Business Setup, we can help you find the right health insurance policy that meets your specific needs and budget. We work with some of the world's leading health insurance providers, offering a broad range of packages for individuals and groups.
Private Health Insurance in UAE: Requirements and Information
As a non-resident in Dubai, having valid health insurance is crucial. While some employers provide health insurance coverage, not all jobs offer this benefit. Additionally, coverage for your dependents may depend on factors such as age and the type of treatments you require.
It's important to note that private health insurance providers in Dubai may differ in terms of coverage, claiming process, treatment options, and payment methods. Therefore, it's essential to research and compare different insurance companies before selecting one.
Check the list of approved and registered insurance providers on the UAE Insurance Authority's website to ensure you get health coverage from a reputable insurer. At Emirates Business Setup, we offer tailored private health insurance packages from leading companies to provide you with the coverage you need.
What Is Passport Card Insurance?
Passport Card is a digital travel insurance platform that aims to provide hassle-free and easy-to-use travel insurance to customers worldwide. Unlike traditional insurance policies, which require customers to pay out-of-pocket and submit claims for reimbursement, Passport Card offers a cashless experience. Customers can use their Passport Health Insurance Card to pay for medical expenses while traveling, eliminating the need for paperwork, upfront payments, or reimbursement processes.
Passport Card offers various travel insurance plans that cover medical expenses, trip cancellations, lost luggage, and other travel-related incidents. The company's medical insurance plans are its flagship product, covering emergency medical expenses, hospitalization, outpatient treatment, and other related costs.
With a Passport Card, customers can access medical care worldwide without worrying about language barriers, local regulations, or payment methods. The company's network of medical providers includes over 1.7 million doctors and hospitals in 190 countries, ensuring that customers can receive quality care anywhere.
One of the unique features of Passport Card's travel insurance is its "no-out-of-pocket" policy. Customers do not need to pay for medical expenses upfront, as Passport Card pays the medical providers directly. This eliminates the need for reimbursement claims and makes the process of receiving medical care smoother and less stressful. In addition, Passport Card offers 24/7 support through its mobile app and customer service hotline, ensuring that customers can get assistance with their medical needs at any time.
Benefits of Passport Card Insurance
One of the most significant benefits of PassportCard.com insurance is its access to quality healthcare services worldwide. With this insurance, you can receive medical treatment at top-rated hospitals and clinics, no matter where you are. Some of the other benefits of PassportCard insurance include the following:
24/7 access to medical advice and assistance
Coverage for pre-existing conditions
No deductibles or out-of-pocket expenses
The quick and easy claims process
Coverage for prescription drugs, diagnostic tests, and more
Another advantage of the Passport Card's travel insurance is its flexibility. Customers can choose from various plans depending on their travel needs, including single-trip, multi-trip, or annual policies.
Also offers add-on coverage for adventure sports, pre-existing medical conditions, and other specific needs. Customers can customize their coverage to fit their travel plans and budget.
Passport Card Insurance Review
Emirates Business Setup is committed to providing our clients with the best possible health insurance coverage at competitive rates. We understand that each individual and family has unique needs and preferences when it comes to healthcare, which is why we offer personalized insurance solutions tailored to your specific requirements. Some of the reasons to choose us for your Passport Card insurance needs include the following:
Passport Card  insurance offers affordable, comprehensive health insurance coverage rates, ensuring that you get the most value for your money.
Our team of professional insurance experts has years of experience in the industry and can help you navigate the complex world of healthcare insurance.
We understand that everyone's healthcare needs differ, so we offer customized insurance solutions that meet your specific requirements.
Exceptional customer service
We are committed to providing exceptional customer service and support, ensuring that you have a hassle-free experience throughout the insurance process.
Comprehensive health insurance coverage is essential for protecting yourself and your loved ones in a medical emergency. Passport Card insurance provides access to affordable and high-quality healthcare services worldwide, ensuring that you can receive the treatment you need, no matter where you are.
At Emirates Business Setup, we are committed to providing our clients with the best possible insurance solutions, and Passport Card insurance is just one of the many options we offer. We can also assist with renewals, cancellations, and any claims you may have. With our help, you can know you and your loved ones are covered in any medical emergencies. You can contact us to get an idea of how to choose the best option for you!