Bank Account Opening Services
Manage your finances by opening a bank account in UAE
With Emirates Business Setup, opening a bank account in Dubai has become much easier and faster.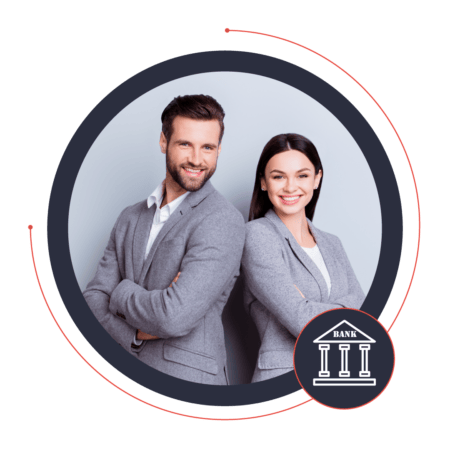 We assist our clients in opening a bank account in Dubai or in UAE either under a person's name as a personal bank account or a bank account under the company's name as a corporate bank account. It is a straightforward process; if you want assistance, EBS can surely help you.
Opening a business bank account in Dubai
For many firms, UAE is a wealthy business hub, because of the UAE economy. The economy is rising and starting a business in the UAE is the perfect option currently. Many foreigners and HNWI (High-net-worth-individuals) around the globe are trying hard to open a business bank account in Dubai, UAE.
Opening a business bank account is the most necessary procedure when establishing a company in Dubai. A corporate bank account is essential since it helps you to keep track of your business expenses and certifies the legitimacy of your organization. Maintaining a business account enhances your professionalism and helps you manage your work. Also, when you write checks to vendors, they will acknowledge it as coming from a respectable company that an individual can trust even in the future.
However, creating a business bank account in the UAE is difficult as it requires a lot of effort and documentation. The procedure is extensive and time intensive, with a few steps applied before opening a business bank account.
For that, Emirates Business Setup banking advisors are experts in this field who always help our clients with everything from selecting the right bank to getting a bank account done.
Required documents for opening a corporate bank account
Opening a corporate bank account can be tiring if you are doing your own, but if you choose the right consultants, this process becomes a lot easier and quicker. The documents that need to be submitted for a corporate bank account if you are an investor here in UAE are:
Trade license of your company
Certificate of your registered company
Memorandum of Association of your company with all amendments and Articles of Association of your company
Emirates ID copy
Ejari & tenancy for office
Customer profile (CV)
Business model/company profile or website
Copies of visas and passports from all shareholders
Last 6 months bank statement
Personal bank account opening details
Everyone should have a bank account to manage their expenses and income for savings. In this developing world now, everything is digital. You can have your cash on your card and do online transactions by paying for all goods and services. Almost all kinds of payments are now accepted by online transactions or using one of the online payment methods. These methods give you safety and security; this way, you can easily track all your expenses. So that's why Personal bank accounts have now become mandatory to maintain individual assets and incomes and quickly pay off expenses.
Required documents for opening a bank account in Dubai
Required documents to open a personal or saving bank account for residents in Dubai are as follows:
Passport
Emirates id
Copy of Visa
Salary certificate or labour contract
It can be open within one day in UAE.
Required documents for non-residents to open a bank account in Dubai
For non-residents, only saving accounts can be opened in UAE. It takes some time for banks to run a background check before allowing a non-resident to open a saving account here in the UAE. The documentation required for opening a saving account for non-residents in UAE are as follows:
Utility bills for last month
Reference letter from the home country bank of an individual that wants to open it
Monthly basis bank statements from home bank
Proof of consistent sources of funding
The process is time taking and tiring for non-residents. Still, it is possible with Emirates Business Setup consultants, as they will surely advise you on the best and help you choose the right option until your bank account opens.
Benefits of opening a business bank account in Dubai
Numerous benefits come with having your personal or corporate bank account in Dubai, such as:
Easy accessibility and safer in banks.
Cashless transactions can be made quickly.
Most banks provide cash back for spending, so it's more like spending and earning more.
We will have our transaction history at any time.
Easy to maintain a budget.
Electronic Mobility is seen anywhere
Book your free consultation
Credit card for business owners in UAE
Business credit cards are designed to facilitate business owners to make small purchases with credit. These credit cards are used to manage business expenses, not personal or individual expenditures. The main reason to get business credit cards is to build your credit score for business, as it is vital for the financial health check of our business in the long run.
Different factors come as an eligibility criterion before applying for a business credit card, including age factor, the income of the individual, and proof of trade license of business. It is crucial to find out the best bank that suits you well, and for that reason, we can assist you.
Credit card for employees in UAE
There is a widespread opinion about how unimportant credit cards are, but contrary to that, using a credit card can be rewarding as you can access emergency funds, buy now, pay later scheme, and many more rewards. So, if you are looking to open your credit card in UAE as a resident here, then you must have these documents with you:
Salary of a minimum of 5000 AED or more
Original passport
Emirates ID
Copy of resident visa UAE
Salary certificate
Check and balance all your expenses effortlessly in Dubai
If you are a resident of the UAE, a bank account is a blessing. You can use it wherever you go, in and out, including in the malls, grocery stores, online shopping, or almost everywhere else. Especially if you are starting your company here, it is mandatory to have a business bank account to manage your finances efficiently.
Are you ready to take one step further and want to open a bank account in Dubai? Emirates Business Setup can help! Contact us now and apply for your bank account to get yourself on board.